November 29, 2017
9 a.m. – 3 p.m.
The Kern Water Bank is filled to the brim with wonderful water from the recent rain and snow cycle. There are also a host of beautiful waterfowl on the bank that are rarely seen by the general public. Join the Water Association of Kern County for a bus tour of the Kern Water Bank and Kern River. We'll learn the history and purpose of the bank and how it benefits Kern County. We'll also make a stop up the Kern River to see the "first point of measurement," where river flows are measured and monitored.
Tour Stops
Kern Water Bank
Lunch
First point of measurement on the Kern River
Bring a camera and binoculars!
$25 – Box lunch included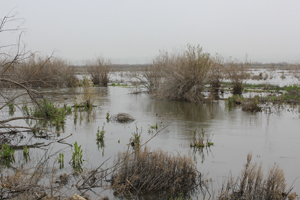 Register online at here.
(Please wear closed toe, comfortable walking shoes)
Bus loads at 9:00 a.m. at the Bakersfield Chamber of Commerce, 1725 Eye St. Park your vehicle in the parking structure across from the chamber. Bus will depart at 9:25 a.m. and return at approximately 3 p.m.