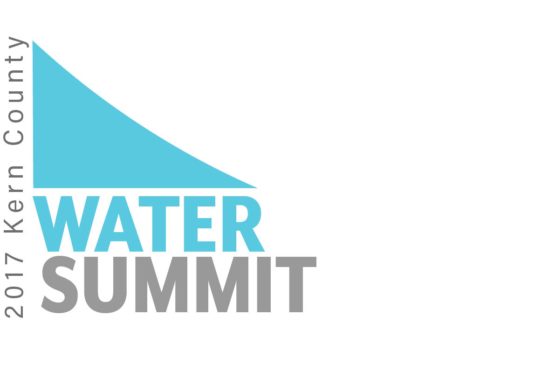 2017 Kern County Water Summit – Tickets now available
March 1, 2017 – The New Reality
Presented by the Water Association of Kern County
What every business owner, community leader, public official, oil company manager or farmer needs to know about how water impacts growth, development and sustainability.
A full day of discussion about California's most critical water issues – Sacramento-San Joaquin Delta challenges; groundwater legislation/implementation/impacts; urban water management; economics of water; and politics of water.
Double Tree Hotel, 3100 Camino Del Rio Ct, Bakersfield, CA 93308
7 a.m – 5 p.m.
WAKC Members – $75
Non-Members – $100
Tables of Eight – $600
Or download a reservation form and mail it in.
Water Summit Flyer
summit flyer
DoubleTree Hotel reservation information here.
Agenda
2017 Kern County Water Summit
March 1, 2017
(subject to change)
Water 101 — Where does Kern County get its water supply and how much is really available for development, farming, industry and homes? — Curtis Creel, Kern County Water Agency
The Sacramento-San Joaquin Delta — The center of California's water supply and the hub of a political and regulatory storm — Panel moderator, Mike Wade, California Farm Water Coalition
Panelists
Randy Fiorini, Delta Stewardship Council
Gary Bobker, The Bay Institute
Jason Peltier, San Luis & Delta-Mendota Water Authority
DeeDee D'Adamo, State Water Resources Control Board
The Changing Climate — Plants: A Window Into Drought — John Austin, Author of "Floods and Droughts in the Tulare Lake Basin"
Groundwater — The Genie is out of the bottle — How groundwater regulation will impact everyone (yes, that means schools, developers, farmers, oil companies, business and homeowners) in Kern County — Panel moderator, Eric Averett, Rosedale-Rio Bravo Water Storage District
Panelists
Jason Pucheu, Maricopa Orchards
Jennifer Pitcher, Western States Petroleum Association
A Statewide Perspective on Water — Bill Croyle, Acting Director, California Department of Water Resources
Urban Water Supply Challenges — Can cities and towns thrive in a shrinking water environment? — Panel Moderator, Harry Starkey, West Kern Water District
Panelists
Jason Meadors, City of Bakersfield
Tricia Wathen, State Water Resources Control Board – Division of Drinking Water
Home Builders Association of Kern County
Susan Cordone, California Water Service Co.
The Water/Money Nexus — How water supplies hit everyone in the pocketbook– Panel Moderator, Nick Ortiz, Greater Bakersfield Chamber of Commerce
Panelists
Richard Chapman, Kern Economic Development Corp.
Dr. David Sunding, University of California, Berkeley
Political Realities – Striking a balance in a charged political climate —Panel Moderator — Lois Henry, The Bakersfield Californian
Panelists
Supervisor David Couch, County of Kern
Senator Jean Fuller, California State Senate
Dale Kasler, The Sacramento Bee
Johnny Amaral, Westlands Water District